What is Verizon AARP Cell Phone Discount? (Everything You Need To Know)
The AARP is one of the most active organizations for people over the age of 50, with 38 million members as of 2019. AARP provides benefits such as free financial advice, reduced home insurance costs, and, most importantly, AARP cell phone plans for seniors, phone plan discounts.
These savings are significant because you will save money by using platforms such as Verizon AARP cell phone discount. Verizon is widely regarded as one of the most important carriers in terms of providing Verizon jitterbug phones, Verizon unlimited mobile hotspot plans, and network coverage.
There is no AARP cellphone discount with Verizon Wireless, but if you are over the age of 55, there is a special plan for you. The good news is that you are not required to be an AARP member to participate in the plan because it is available to the general public.
This article will provide additional information about Verizon deals as well as a comparison to other carriers that offer discounted plans. For more information, continue reading.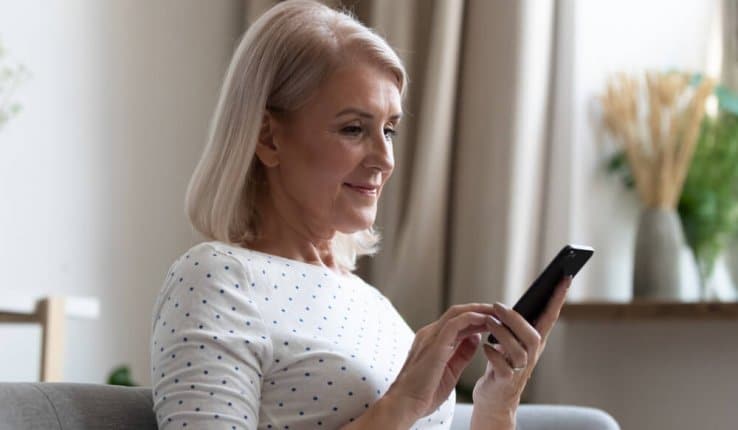 WHAT IS AARP?
The American Association of Retired Persons (AARP) was founded in 1958 with the mission of "empowering people to choose how they live as they age." It is a powerful lobbying group in the United States that focuses primarily on issues affecting the elderly.
AARP Services, Inc., founded in 1999, is AARP's wholly-owned taxable subsidiary that manages the range of products and services provided as member benefits. AARP has provided value to its members through advocacy, information, and service at a cost of $16 per year.
Your free 2-year membership includes discounts on dining, travel, and personal health, as well as cell phone plans, hearing, and dental care. You can add a spouse/partner to your membership at no extra charge. Both of you will receive an AARP membership card and will be able to take advantage of all of AARP's benefits.
An AARP membership can save you money at your favorite stores and restaurants, as well as on travel, phone plans, and other services. In other words, for $1 per month, you can get fun discounts on things like audiobooks, cell phone plans, and even groceries and food subscriptions.
HOW MUCH DOES AN AARP MEMBERSHIP COST?
Whether you are joining or renewing your AARP membership, the annual fee is $16. Auto-Renewal will help you save money. The first year costs $12. You can save money by signing up for a longer-term membership.
One of the two ways to join AARP is to do one of the following:
Online: Your AARP card will be mailed to you. This process can take up to four weeks. If you prefer, you can also print your AARP membership card online.
AARP can be reached by phone at (1-888-687-2277).
WHO'S ELIGIBLE FOR AARP MEMBERSHIP?
Membership in AARP is open to anyone over the age of 18 in the United States (even though the group is aimed for those over 50). If you are eligible, you can enroll online or by calling (888) OUR-AARP.
AARP membership costs $16 per year, or $12 for the first year with automatic renewals. Furthermore, the spouse of an AARP member can join for free, allowing your family to benefit from even more discounts.
Alternative Video: Verizon AARP Cell Phone Discount
SUGGESTED POSTS:
WHAT ARE THE AARP PLANS FOR VERIZON CUSTOMERS?
AARP is all about saving money on your regular monthly bills. When it comes to cellphone plans, whether you choose a Pay-As-You-Go or a Postpaid plan, you could save money.
Verizon Wireless offers a special plan for seniors called the Go Unlimited plan. This plan binds you to a contract with Verizon wireless, and if you're looking for a good deal, it might be the best option for you.
Detroit, Florida, Illinois, Missouri, and Texas are among the states that offer the Go Unlimited plan. However, as time goes on, they may expand to other states, similar to how Verizon's wireless lifeline service works.
WHAT TYPES OF PHONES ARE AVAILABLE ON DISCOUNT FOR AARP CUSTOMERS?
Verizon provides many discounts that are available to the general public, which means that whether you are a member of AARP or not, you will still receive a phone discount. Furthermore, the smartphones ranged from flagship to low-cost models. The following are some of the brands available through Verizon Wireless:
There are many other phones available, and because Verizon uses CDMA network technology, you will have a few options. You can also go to a Verizon store and get more information about the phones.
If you don't have enough money to buy the phone of your choice, Verizon Wireless offers a contract option in which you get the phone and pay in installments.
GO UNLIMITED PLAN 55+ EXPLAINED
This plan is only available to adults over the age of 50. Those enrolled in the AARP program can also greatly benefit from this. If you are 55 or older, you are eligible for a maximum of two lines.
You will pay $60 per month for one line, which includes taxes and other fees. If you only have one line, you will save about $15 per month. You will only pay $80 per month for two lines, including fees and taxes.
The Go Unlimited plan provides an all-in-one experience for calls, texts, and data, as summarized below.
You get unlimited data at 4G LTE speeds
Verizon up Rewards
Unlimited mobile hotspot plans
DVD quality streaming
So from the above option, it is better to purchase two lines and save $50 per month.
IS THE GO UNLIMITED 55+ PLAN EFFICIENT FOR AARP MEMBERS?
In comparison to other carriers such as AT&T and consumer cellular, Verizon wireless Unlimited 55+ may be the best option for you. First and foremost, Verizon Wireless has the best network strength across the country, making it more efficient than other companies. The additional benefit is that you will have unlimited talk, text, and data for the entire month.
This is far superior to consumer cellular, which does not offer unlimited plans. Furthermore, the Verizon upward rewards are excellent for AARP members because they include bonuses, super rewards, and local offers from Verizon wireless.
Despite the lack of an AARP cell phone discount from Verizon, the Unlimited 55+ plan is an excellent choice. To sign up, go to a Verizon wireless retrial store or sign up online.
ARE THERE ANY AARP DISCOUNTED PHONE PLANS IN VERIZON WIRELESS?
AT&T, consumer cellular, and cricket wireless all offer AARP members discounted plans. In summary, the discount you are likely to receive is as follows:
For AT&T, you will receive a 10% discount on monthly service charges for wireless plans and a 15% discount on eligible accessories. To take advantage of this offer, you must present an active AARP documentation proof at an AT&T retail store.
For consumer cellular, you receive a 5% discount on monthly charges and a 30% discount on eligible accessories. Furthermore, if an AARP member is dissatisfied with the consumer cellular plans, he or she will not be billed on a monthly basis.
Cricket Wireless provides eligible AARP members with a discounted or free device upgrade every 24 months. You will also receive a $20 mail-in rebate for each new device purchased from them.
LIST OF OTHER WIRELESS PROVIDERS THAT DO OFFER AN AARP DISCOUNT
Although Verizon Wireless does not provide an AARP discount, the following mobile phone service providers do:
1. AT&T
A 10% discount on qualifying wireless plans' monthly service charges and a 15% discount on eligible accessories are available. Online or in an authorized retail store by displaying an active AARP membership card.
2. Cellular Consumer
A 5% discount on monthly service charges and a 30% discount on eligible accessories are available. AARP members are also given an extended risk-free guarantee — if an AARP member is not completely satisfied with their plan, they can cancel it and pay nothing.
3. Cricket Wireless
Every 24 months, you'll receive a $20 mail-in rebate for each new device and a free or discounted device upgrade (selected models only).
CONCLUSION
Despite the fact that Verizon Wireless does not offer AARP cell phone discounts, the Go Unlimited plan is better than some of the discounts offered by the carriers mentioned above.
Most people who use the Verizon Upward rewards and unlimited data for a month like the Go Unlimited 55+ plan. So, if you want great deals at a low cost, Verizon is the place to be. To sign up, you can use their website or go to an authorized Verizon store.
Frequently Asked Questions
What is Verizon loyalty plan?
Verizon provides a $25 loyalty discount, allowing customers to get a 5GB internet plan for just $25. It also includes a mobile internet hotspot, which is a great deal. Anyone living in Canada or Mexico can subscribe to the 15GB plan. It also includes a $35 mobile hotspot.
Is there a discount for seniors on Verizon?
If the subscriber is over the age of 65, all four major US carriers offer discounted plans, and Verizon, T-Mobile, and Sprint's plans are available to people over the age of 55.
Does Walmart give AARP discounts?
Is there an AARP discount at Walmart? As of 2022, Walmart does not accept AARP discounts for groceries or any other products. Members of AARP can also get discounts at Walgreens, RiteAid, Kohl's, Goodwill, UPS, and TJ Maxx, to name a few.